Hey there everyone, so I think we can all agree that it's officially the Christmas shopping season! All the stores are decorated, the gift sets are out and this Friday is Black Friday, then you have small business Saturday this weekend as well, plus it's Thanksgiving week which means after that it's ok to decorate! Today for you I have some fun gift ideas you all can look for that would be perfect for any beauty lover, or yourself! ;)
Last week we actually went out and went to Ulta and Sephora and some other places to get some ideas of exactly what is out there. Shopping online is great yet sometimes it is just nice to shop in an actual store so in this post there will be a variety of in store items and or online items. now lets start making lists of what ya'll may want to look for.
www.zoya.com
First up I am going to starts with some great Zoya deals. As you all know I am a big Zoya fan, and have been for awhile. Chances are if you are reading this you already know about Zoya but if not... Zoya is a vegan 5 Free polish, and is a great quality polish. This year if you are wanting to try out Zoya or gift Zoya to someone here are some great options. If you have a Ulta in stores there is a buy two get one deal going on which I always love. One great tip if you are going to do that is while you are in Ulta or before you go out pull up Ultas website and get the $3.50 of $10 and use that along with the deal. I know I am all about getting good deals and every little bit helps right. :) Actually to make this super easy for you
HERE
is a link to the coupon. If you are reading this on your phone you can screen shot the coupon and they will accept it in store! :) Also in Ulta there are some Zoya gift packs. There are little gift sets that come with 3 mini Zoyas along with a lipstick and they have a few different color options for this set. They can be found at Ulta and also on Zoyas website for $18.
HERE
is a link to Zoyas site and a preview look below. In stores I saw a red combo, berry combo and a nude combo but online I only see these two.
www.zoya.com
Another great deal Zoya has going on right now is the Dream Box! There are 3 different ways of doing the dream box so lets look at that! First there is the Dream Box Trio, which is a premade trio of 3 full size polishes. To see the premade options check that out
HERE
. There are some really pretty options. These trios even come with a little tutorial for you using those polishes. This trio is typically $25 but right now they are running a Black Friday sale and if you use the promo code
DEALS
it will only be $20.
I did mention that there are 3 levels of the dream boxes and I have to say that these next two seem great. The next one up from the trio is a Build Your Own Dream Box 6 piece set, and it is only $30 and comes with free shipping. You can find this deal
HERE
. Typically 6 Zoya Polishes no promo would be $54 so this is a great deal! Plus if you think about it you could order this and split it among those who you are shopping for and keep one for yourself! ;)
Now one more step up from that is another Build Your Own Dream Box 12 piece set, and that is $50 plus free shipping and normally valued at $108, Literally that is more than half off and a great deal, and a lot of polish. You can find the info for this set
HERE
.
So those are the great Zoya deals for this season. The Dream Box prices will only be this way for this week since it is a Black Friday promotion.
www.chinaglaze.com
Next up, China Glaze! China Glaze has a really fun Christmas line out at the moment and it is called Cheers! I don't own any of them right now, but I am eyeing some to add to my Christmas list. While at Ulta I found a very cute fun set of some of their Holiday Minis called Mini Mixers and it was $14.95, and you get 6 minis. Here is a look at it and you can find it on Ultas site
HERE
.
www.ulta.com
Along with that most Ultas should have the full size Cheers line out as well and those are $7.50 each. If you are ok with shopping online I would suggest looking at this line over on HB Beauty Bar
HERE
. They have a bigger variety of sets and very good prices in my opinion. Plus you can get the full size polishes for $5.25! Really good deal there plus if you spend $35 its automatic free shipping. Also you can use the promo code HB15 for 15% off! ******UPDATE******* Currently from now until Monday if you use
bf20
you can get 20% off your full order! I actually order my base and top coat from there because shipping is quick and prices are great and less then if I were to go to the store! So just another thing to think about if you are Seche Vite user, throw in some of those for yourself if you are shopping over there! :)
www.essie.com
Any Essie fans out there? Well sadly I haven't seen any wonderful deals for Essie. The best deal I have seen for Essie was at Ulta and they have 3 different gift sets featuring some of their new winter colors and those can be found
HERE
.
www.OPI.com
As For OPI this year the best deal I have seen OPI wise is for sure at Ulta. Its 2 for $16 (Plus you could use that coupon from earlier), and with the purchase of 2 OPI polishes you get a Free Blush Infinity scarf. So that is fun and can give you an extra gift or a treat for your self.
*****UPDATE***** Just saw another Black Friday Deal in Ultas ad! You can get little mini 3 packs for $9.95 each, and there are four different combinations, but for Black Friday you can get 2 for $12
www.colourpop.com
So now for something makeup related! :) I have recently discovered Colour Pop and well I love everything so far. I love the prices and the quality seems wonderful. I picked up 2 eye shadows Central Perk (Yes named after Friends) and then Lovely. Both of which are gorgeous on great pigmentation, and no fallout which is a big deal! :) I love that they are only $5 too! I mean that is wonderful and really they come with a lot of eye shadow so its worth it. I am already making a list for my next order! :) Oh and I have seen some lippies that are lovely too, thinking I need Silk! As of right now I do not know of any special holiday deals but really they are already better priced than some most would buy in stores. Also a little tip, if you sign up for emails you will get a $5 off and that was my price for shipping so that took care of shipping on my last order! Here is what Colour Pop has going on for Black Friday!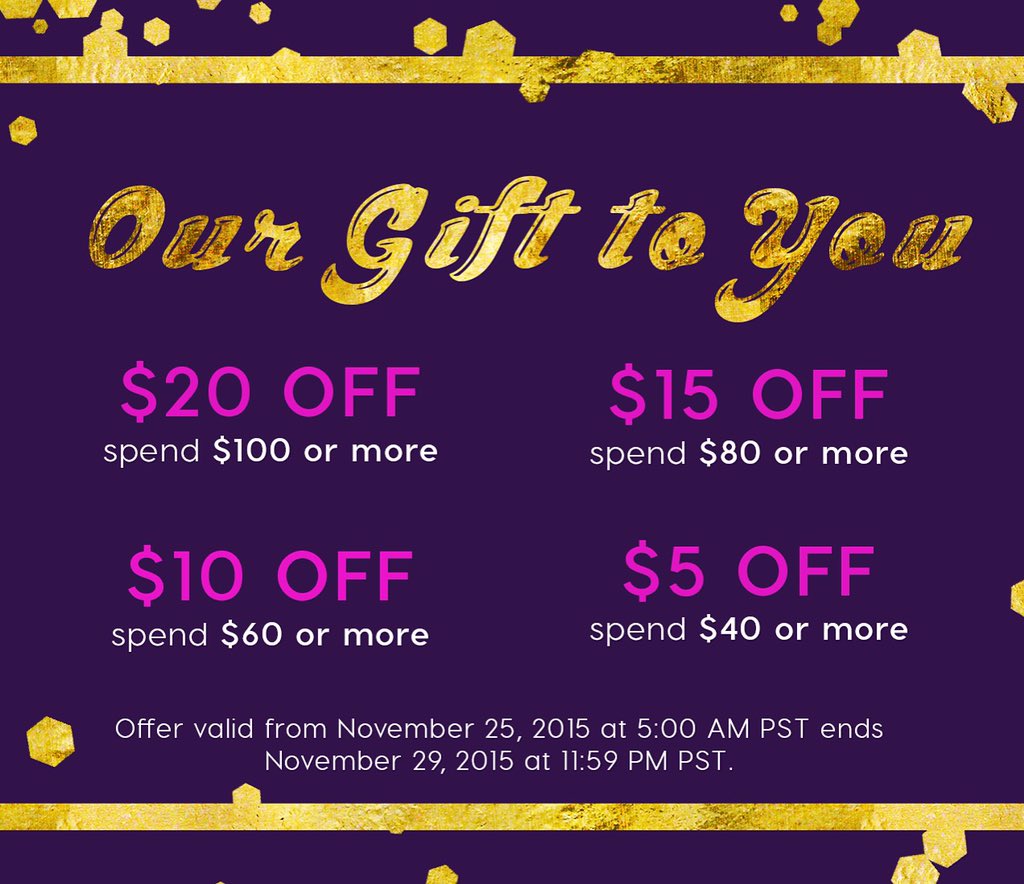 Picture from Colourpops Twitter
I hope you all enjoyed this post and hopefully it has helped you decide on some places you need to hit on Black Friday. If you all have any other deals that you would like to share feel free to do so below! :) I may have to check them out myself. ;) Hope you all have a fun and safe Thanksgiving an Black Friday!
********** UPDATED INFO**********
Hey ya'll Happy Thanksgiving! So I just went through some more Black Friday Ads and found some things I MUST share! So lets see! ;)
Many people have asked me what type of light I use for taking photos for my blog, and guess what? The exact light I use is on SALE! So last year I bought an Ottlite at Michaels for 18 something with tax and all and it is probably the best thing light wise I have even bought, its normally a $50 light so it a great deal! This year is is on sale for $22.99 PLUS if you go pick up the Michaels ad or head over
HERE
you can get 25% off your entire purchase of sale items which puts you in the range of the $18 with tax depending on where you live! The 25% off is in a time bracket but really even with out it this is a SUPER good deal. Plus this sale is good on Saturday as well. Here is the exact photo from the ad.
If I see any more I will spread the word!
*****Update******
I'm back! I just find more sales coming in! :) So here are a few more good deals! Don't have pictures because I am updating in a different way than normal! ;)
TwinkledT
25% off Entire Store with the code GIVETHANKS and this sale runs through Monday! :)
Londontown Lakur
Starting today (Friday) I will be reviewing some new Lakur polishes and I just saw that they are having 30% off Site Wide when you use the code CYBER30. :)
Envy Lacquer
30% off Entire Store with the code EnvysBlackFriday and the first 10 people who use it will get 50% off all polish.
Urban Outfitters
I think some of you may of noticed I have really started to love UO nail polish and it's a great price too! On a normal day it's 2 for $8 which is great! Yet today I just saw it is 2 for $6!! Even better!! I totally recommend their white and Marsala! I personally love Bombay Funk for this time of year! I have a total of 9 of their polishes and love them all! So if you wanna try them out this is the perfect time!
Happy Eating and Shopping!
~25 Sweetpeas